In 2020, Instagram is the platform of the hour and continues to gain popularity, reach, and relevance. "Do it for the gram" not only applies to countless influencers, but more and more advertisers also have Instagram on their screens, as a look at Facebook's sales shows.
Because Instagram, the place where an incredible number of people seem to have the whole day off and only ever experience great things, was responsible for more than a quarter of Facebook's annual sales in 2019, according to Bloomberg. In numbers, that's a loose 20 billion advertising revenue – generated by ads on Instagram. And the trend: increasing.
It's no wonder that Instagram is constantly expanding the placement options and formats for advertisements. For a few months now, for example, it has been possible to deliver Instagram Ads not only within the feed or stories but also within Instagram Explore.
As an advertiser, there are more and more placements, ad formats, and tools available on Instagram. In this article, we look at five important tools and tips to get started with your Instagram ads in 2020.
INSTAGRAM ADS BASICS: LINK INSTAGRAM BUSINESS PROFILE TO YOUR BUSINESS MANAGER
So that you can get the full advertising potential out of Instagram, you first have to lay the foundations for it. It's a bit like driving school: theory comes before practice.
For you to have all the options and functions for your Instagram ads, you need an Instagram business profile, which you have linked with your business manager and with all the necessary elements – i.e., your advertising account and your product catalog.
How to link your Instagram business profile with your business manager and advertising account
To link your Instagram business profile with your business manager, open the company settings of your business manager, and add your profile under Accounts, Instagram accounts.
For this, you need the login to your profile (ie, the user name and password), and you must be an administrator of the Business Manager.
As soon as you have added your Instagram business account to Business Manager, you can link it to your advertising account, activate access for partners, or set up Instagram shopping within the Catalog Manager (see below).
By the way: If you have already linked your Instagram profile to a Facebook page, you should add both your Facebook page and your Instagram business account to your Business Manager. The order must be.
Link Instagram business profile to product catalog and set up Instagram shopping
Instagram shopping allows you to mark your products on photos, videos, or stories on Instagram. After clicking on the product tag, users receive more information about your products, are suggested similar products, and can view the product on your website and, in the best case, buy it directly.
Instabuy!
Instagram Shopping turns your Instagram profile into a showcase. An absolute must-have feature, which you should set up and use for your organic posts – provided the requirements for Instagram shopping, are met.
Particularly exciting: Instagram shopping posts can now also be advertised via the advertisement manager – more on that in the first tip.
The first step for setting up Instagram Shopping is – you probably already thought it – in the Business Manager because the connection between your product catalog and your Instagram profile must first be established there.
A product catalog is the home of all products in your online shop within the Business Manager and forms the basis for Instagram shopping. To establish the connection between your Instagram profile and your catalog, open your catalog in the company settings, data sources and click on "Open in Catalog Manager".
Within your catalog, you can create the link between the product catalog and Instagram profile either via the menu item "Use cases" or in the settings under "Connected Instagram business profiles."
There you can then select your Instagram profile already linked to the Business Manager and connect it to the catalog (provided the requirements for Instagram Shopping are met) or add a new account.
As soon as you have linked your Instagram profile to the catalog, you need your smartphone and the Instagram app.
To set up or activate Instagram Shopping in the Instagram app, open the settings of your profile, there the menu item "Company" and then "Shopping." Here you now have access to your product catalog and can now use it for your product markings.
That was too fast? Here is a step-by-step guide in the Facebook Help Center.
Note: Alternatively, you can set up Instagram Shopping based on your Facebook shop. However, the best option is to set it up using the Catalog Manager or your product catalog in the Business Manager.
Do you tick the basics? Then you can start with the tips for your Instagram Ads.
Tips For Instagram Ads
# 1 TIP: PROMOTE INSTAGRAM SHOPPING POSTS THROUGH THE AD MANAGER
Instagram Shopping has been worth it twice since the end of 2019.
Because in addition to the option to mark products in organic posts, there is now also the possibility to advertise your Instagram Shopping Posts via the Ad Manager: Instagram Shopping Ads are there (or are currently being rolled out ). If you don't have access to this function yet, you have to wait – as always.
Instagram Shopping Ads enable posts or feed postings with product markings to be advertised as existing posts to all available target groups via the advertisement manager.
To do this, you must first publish an Instagram shopping post with product markings on your account (is obvious)
… and can then select it as an existing post in the Ad Manager. So you can e.g., Use Instagram Shopping Ads as a creative for a conversion campaign.
To do this, you select at the level of the advertisements that you want to use an existing post …
… and then choose an Instagram post with shopping tags from the list.
Note: In this overview, you will not see the posts on which products have been marked.
You can see which posts have a shopping day within the Instagram app and then select one of these posts via the advertisement manager.
It makes sense to choose a post that has already worked organically – this increases the likelihood that it will also perform well as an Instagram Shopping Ad.
Then you have to give your post or your ad a "Call to Action" button with the website URL, and you can start your Instagram Shopping Ad.
As far as the choice of placements for your Instagram Shopping Ad is concerned, it is possible to have this post delivered by the automatic placement, for example, in the feed on Facebook – but it will then appear there without a shopping tag.
A limitation to the Instagram placements that enable shopping tags makes sense here: Instagram Feed and Instagram Explore.
My favorite tests with Instagram Shopping Ads:
Top of Funnel (TOFU): test

an organically successful shopping contribution in open targetings (ie, a target group definition based solely on demographic characteristics) or large lookalike audiences (5% +)

Top of Funnel (TOFU):

a website custom audience of the people or the labeled products have seen in the last seven days, the basis for a

lookalike audience

use

Middle of Funnel (MOFU): Promote

Instagram Shopping Ads to people who

have interacted

with your Facebook or Instagram posts or ads in the past 30/60/90 days

Middle of Funnel (MOFU):

and of course always worth a test:

Website Custom Audiences

, e.g. The top 25 percent based on the time spent on your site
More about target groups based on Instagram can be found later at Tip # 5.
# 2 TIP: USE INSTAGRAM BRANDED CONTENT ADS
Branded content is another function that could originally only be used for organic content on Instagram. Mark in a branded content contribution Influencer (or more generally "Creator") their business partners, and so can their cooperation mark.
The collaboration between influencers and companies is identified in a branded content post or story by the note "paid partnership with."
And these contributions can now also be advertised via the advertisement manager – paid social meets influencer marketing.
Branded content ads make it possible to advertise the contributions or stories of influencers as "existing contributions" via the advertisement manager.
As with Instagram Shopping Ads, the following also applies here: Branded Content Ads can be advertised to all of your available target groups.
Retargeting with website custom audiences? Addressing your target groups again in the Middle of Funnel via Engagement Custom Audiences? Or approaching new customers with Lookalike Audiences?
Branded content ads have it all!
In order for you as an advertiser to be able to advertise a branded content post or story from an influencer in your advertising account, the latter must mark you in his / her post or story as a business partner and allow approval for the highlighting. In essence, a point that is often forgotten becomes.
If the influencer, creator, or formally "business partner" has tagged you in a post or story and accepted the highlight setting, you can access that post through the Ad Manager.
To do this, you choose at the ad level that you want to use an existing post …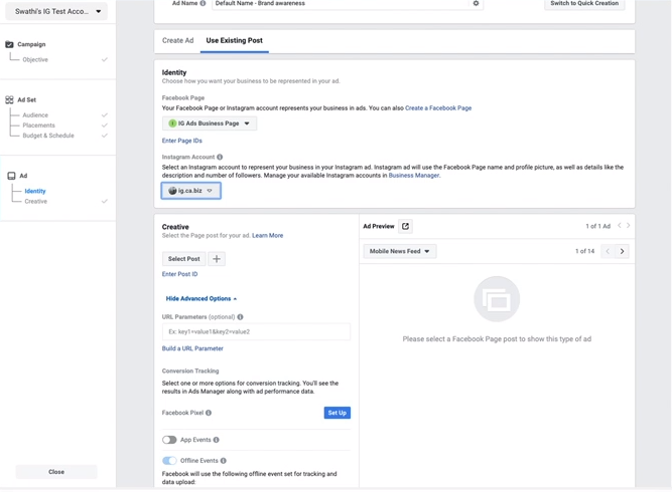 … and then see all available articles and stories under "Branded Content."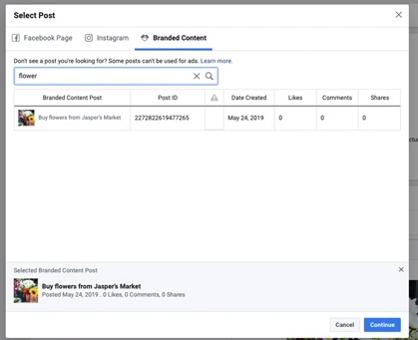 If everything went well when you selected it, you could select the post or story here. If the authorization for highlighting has not been granted, you will be shown this by an exclamation mark and a corresponding message.
For the selected branded content contribution …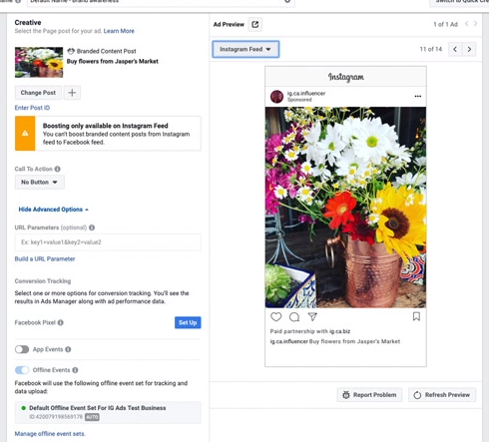 … or the selected branded content story must then be selected a website URL and a "Call to Action" button – and you're ready to go.
Some things to consider with branded content ads:
An adjustment of the text of the post is not possible with branded content ads – if you are working with coupon codes for your influencer measures, you should take this into account.

With branded content stories, only one story (max. 15 seconds) can be advertised in one ad. The most important message must be clear within a story and in 15 seconds – not spread over several stories.
Sounds good? Is it!
# 3 TIP: CREATE NATIVE INSTAGRAM STORY ADS
You like this: "These are all nice tips, but when will more, Instagram Story Ads come out?"
Me like this: Now!
Story Ads are currently the hottest but, at the same time, also the most demanding ad format on Instagram or in the entire social media cosmos. Anyone who "masters" story ads is well-positioned for the change in social media usage from feeds to stories.
Because already in 2018, said a certain Mark Z. that stories would overtake the feed as the dominant medium in the future.
However, the vertical format of stories, the limited display time, and the missing text elements in contrast to the feed make story ads a challenge for many advertisers.
In particular, the fact that story ads do not contain any text elements compared to feed ads (apart from feed ads are also delivered in stories via the automatic placement or the images or videos used are processed) is often forgotten.
Existing creatives are clumsily cut into the 9:16 format—the result: Ads where the advertiser knows at most what he wants to achieve with it.
It is not that difficult to create story ads with text elements or to edit existing creatives that also look authentic. Because you probably have one way of doing this at hand: your smartphone and the Instagram app.
With the help of the Instagram app, you can create or edit pictures or videos in no time, and in particular, add native text elements. You can access all the functions of the app: texts, GIFs, and boomerangs. After you have edited the image or video, you can send it to your computer via airdrop or email and upload it to the Ad Manager.
So why go far and use expensive and most complicated tools for video editing when the good things in the Instagram app are so close?
Particularly exciting for Instagram Story Ads: the combination of Boomerang video, native text elements, and survey function.
Instagram Story Ads: Animate Swipe Up
One advantage of story ads: cheaper CPMs than in the feeds. One disadvantage of story ads: lower click rates than in the feeds.
One way to increase the click rate of story ads is to animate the swipe up or "call to action" button.
Either through a "bounce" effect, which shows a section of the website behind it and can thus arouse curiosity (can be implemented with the Mojo app, for example ) …
… or through animated elements that are positioned near the "Call to Action" button.
Instagram story ads: clever use of carousel ads
In addition to the classic single image or single video story ads, you can also work with the Carousel format within Instagram Stories.
With a story carousel ad, you can – like the feed – connect three pictures or videos in a row as a carousel.
With a tap on the right edge of the screen, a user can click through three stories – and this possibility can be creatively considered when designing the ad.
With a "tap," you can, for example, ask the user to open the packaging of your product or spill something – as in the example above.
# 4 TIP: TEST DIFFERENT MEDIA FOR FEED AND STORY WITH ASSET CUSTOMIZATION
To ensure that your advertisement looks optimal on every placement of Facebook and Instagram advertising cosmos, the function "Asset Customization" has been available since the beginning of 2018.
With the help of Asset Customization, you can use different images or videos for different placements in your advertisements.
Initially, the media format (image or video) had to be the same on all placements. The advertising manager now enables different formats to be uploaded for different placements. In this way, you can, for example, use a static image in the feed and a video or a swipe-up animation in stories) – and that makes a lot of sense.
When creating an advertisement, you first upload the desired image or video for the feed …
… Then click on "Choose a placement to customize" and select stories there.
There you can change the medium via "Change" and upload a video for stories or select it from the advertising library.
Result: Feed = Image, Stories = Video.
# 5 TIP: USE CUSTOM AUDIENCES BASED ON INSTAGRAM INTERACTIONS
Instagram also offers interesting options for all targeting nerds. Because based on the interactions with your Instagram business profile, different target groups or custom audiences can be created.
And these target groups based on interactions on Instagram should be tested and used in every "Middle of Funnel" setup. My favorite target groups are:
all people who have interacted with your business profile in the past seven days,

People who have interacted with a post or ad on Instagram in the past 30/60 days

Lookalikes of people who have saved or interacted with a post or advertisement.
CONCLUSION
Designing Instagram Ads is a challenge for many advertisers – especially story ads. But with simple levers – e.g., with native text elements from the app or small animations – optimized stories for stories can be designed.
Instagram shopping ads offer huge potential in e-commerce and are an absolute must-test. One thing is certain: If you want to be successful on the Facebook advertising platform in the future, you should make "do it for the gram" your motto.